So you're looking for a smokeless coal delivery, but can only find companies who leave the fuel at the bottom of your drive or on the kerb.
Well I have good news for you. Here at Richards Fuels we do all the deliveries using our own vehicles. This is a huge benefit for you, as it means we can usually reverse our vans up your driveway or wherever you want it.
How do we deliver your fuel?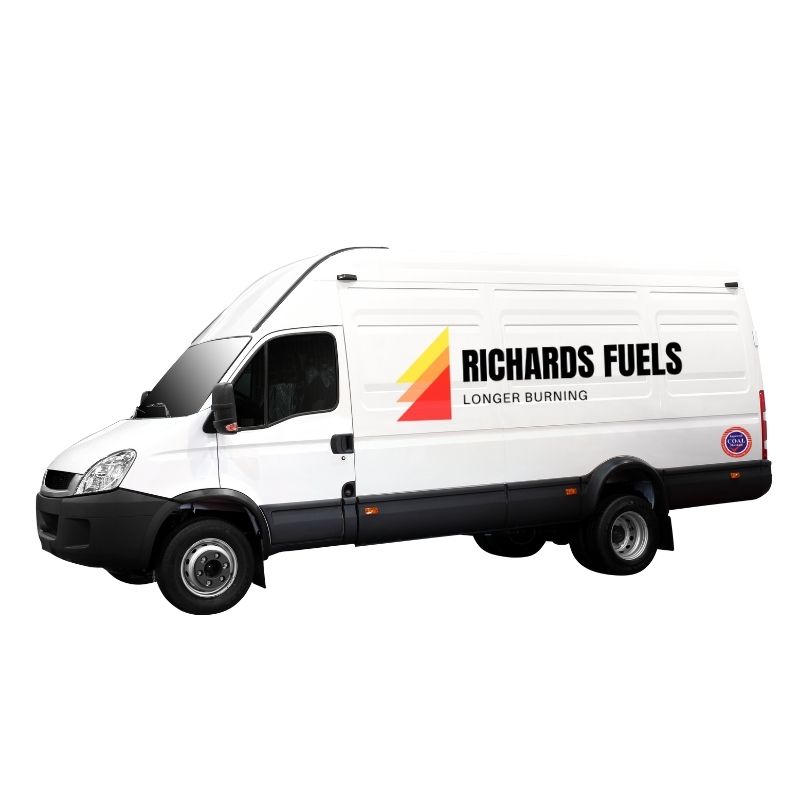 Ordering with us is very straight forward when looking for a smokeless coal delivery. It's literally as easy as 1,2,3,4
Place your order on our website, nice and simple… no fluff.
As soon as we receive your order of fuel, we will contact you to arrange a suitable day and rough time to deliver it.
Since we use our own vehicles to deliver, which are a standard size van… we are able to reverse up most driveways.
We then off load the smokeless fuel or firewood and can place it directly into your garage or wherever you prefer it.
Our aim here it to make the ordering and delivery process as simple and hassle free for you as possible.
How does the smokeless fuel arrive when delivered?
A full pallet of smokeless coal contains 50 20kg bags. We decided to fill our fuel in 20kg bags. A lot of people prefer them due to being easier to lift and handle.
Don't panic though, we don't just leave you with a pallet of fuel. We are able to individually stack the bags wherever you would like them. If you have access around the back, then we can even take them round there for you.
Each bag is individually sealed and clean to handle. Meaning no mess or lose coal flying around.
Why should I buy smokeless coal from you?
That's a great question. There are so many different fuels on the market you can buy. However, all these options can be a bad thing also. Why waste your hard earned money trying to find the best fuel for your stove or open fire?
I have tried so many different ones myself. Some have been absolute rubbish and some excellent. However, my goal is to supply you with a smokeless fuel that is good value for money, burns over 30 hours and performs the best.
I truly believe I supply my customers the best all rounder product. It may not be the cheapest to buy, but it last a lot longer. Better value for money in the long run.
If you would like to discuss any of the products before purchasing, then please contact myself (Richard) and i'll be more than happy to assist.